Biography of Terry Evans


---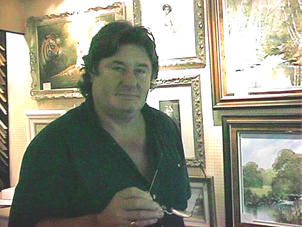 Terry Evans was born in 1943 in Romford, Essex. He is a big, outgoing and popular man, which he modestly puts down to being born under the sign of Aries the Ram.
He started painting for self-satisfaction, his subjects were portraits, racing-cars and dogs. He dabbled with watercolour and acrylics, and then he tried oils. He explains that this was a turning point in his career as he found the expressive freedom of working in paint that stayed workable for days. A second breakthrough came when he used oils to paint landscapes. By popular demand he turned professional and for many years he has enjoyed a runaway success.
The renowned artist Charles Lefar inspired his unique and distinctive style. It is characteristic of Evans that he openly acknowledges the debt that he owes to the older artist. But Terry Evans has taken the approach further and developed it into a unique style of his own.
An "Evans" is much more detailed and crisper in technique than his mentors work. Not only does Evans wield his palette knife with aplomb but he also adds fine subtle touches with a thin long–haired sable.
He generously loads the canvas with oil paint, lavishly applied with gusto. The canvas groan under the weight of his impasto sculptured landscapes.
The penny-pinching disciplines of formal fine art training are completely unobserved.
Terry Evans has also added his own subject preferences to the style. The paintings tell of a wilderness with running water, rock, glades, pools, mountains, trees and flowers.
His pictures are of unspoilt nature in the raw. Not even an old rotting fence-post is allowed to spoil these landscapes. No-where in an Evans will you find a trace of mankind.
He has exhibited in his own one-man shows in Langres Gallery New York, Stravanger Norway, Rubens Gallery Miami, Singapore, London and elsewhere. His pictures are collected by a wide public, among others, The Russian Ambassador to London, Barclays Bank and the Queen of Ghadaf Saudi Arabia. The Queen gave him a personal gift of an 18-carat gold pen and pencil set when he delivered her paintings!
He says that he only wants to produce good work. The result is an abundance of lavish lush landscapes that exude a love of oil paint and a lust for organic unspoilt nature.
The paintings are sensual and physically tactile, the observer wants to touch the paint, but beware, the pant stays wet for months.