Biography of Rob Ford


---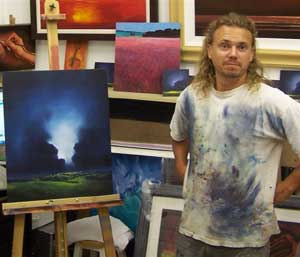 Rob has been painting professionally for over 20 years and for him art has always been a passion. He was born in 1974 and brought up in Wales where from an early age he experimented with anything that came to hand, sometimes to his parent's dismay when for instance they discovered a collage of fruit peels on a warm radiator. Despite this they encouraged him to study art at his local college and here he delveloped an interest in the history of painting as well as its execution. Not able to afford to take his education further he took on a series of jobs leading him to working in advertising where he was able to utilise his artistic skills. This gave him the confidence to start painting for private sales and then to set up a studio where he could undertake commercial commissions while spending every spare minute devoted to his fascination of art.
He prefers to work in oil paint preparing the ground and finishing it in sienna, sanguine or an orchre shade. This means he is not confronted with a stark white canvas and allows the ground colours to shine through the over layers. He then uses a combination of techniques to create the moods and light in his painting often applying the paint in thick layers.
He has now lives in Frinton, Essex with his wife and two children and when he is not painting he loves playing the guitar in a jazz band.